More Information – Contact us to price a professional move for this table
Browse pool tables for sale in Morgantown WV, Brookhaven, Granville, Core, Pleasant Valley, White Hall, Point Marion, Cheat Lake, Kingwood, Washington and more. Call us for pricing to move these pool tables professionally with our exclusive entire year written service guarantee protecting you from any potential problems with our professional installation.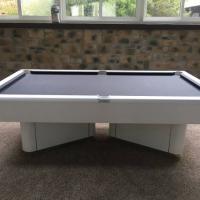 Professional grade pool table kasson. Built-in ball rails and ball return, excellent condition. May require professional assembly unless you know how to assemble pool table correctly.
12/03/2018
Price: $ 1,000.00